Klaas Meurs (b. 14.02.1935, d. 27.03.1977) was a Dutch pilot, who was the First Officer onboard the ill-fated flight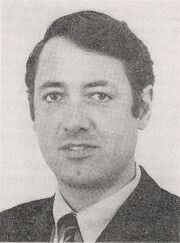 KL4805, which was involved in the Tenerife Disaster.
Klaas Meurs was born in Opperdoes, The Netherlands. Until the day of his death, he had the total of 9.200 flying hours, 95 of them are on Boeing 747.
Type ratings:
Edit
Beechcraft D18S: from: 02.03.1960 until: 11.07.1961
Fokker F-27: from: 26.08.1966 until: 02.07.1970
Douglas DC-8: from: 13.12.1970 until: 29.06.1977
Boeing 747: from: 19.01.1971 until: 29.06.1977
Personal Life
Edit
At the day of the disaster Meurs was married and had two children.
His youngest son Derk now serves as a Captain with Transavia. In 2007 he flew the families of the victims for the 30 year memorial to Tenerife and back home.
Besides aviation, Klaas Meurs was into skiing. At the time of the accident, he was the chairman of the KLM-Skiclub.
Meurs was a temporary Captain on a DC-8, and was offered a similar status on a DC-9, but chose to serve as a First Officer on the Boeing 747 instead.
Documentaries
Edit